I'm almost as intrigued by the inspiration behind Irene Latham's LEAVING GEE'S BEND ( G.P. Putnam's Sons, in bookstores this week) as I am
by the story itself.
Since LEAVING GEE'S BEND involves a journey of discovery, I thought it'd be fun to let you discover some of the
secrets behind the book First Draft Magazine called "
a stunning debut
." Click around to see what Irene revealed to me!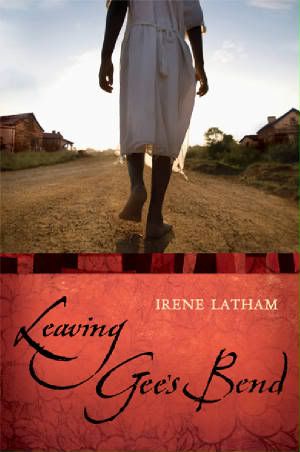 First, let's start with a description of the book.
Ludelphia Ben
nett may be blind in one eye, but that doesn't mean she can't sew, especially when things are going wrong. But when Mama gets deathly ill, it doesn't seem like even quilting will help. Mama needs medicine that can only be found in Camden, over forty miles away. That's when Ludelphia decides to do something drastic - leave Gee's Bend.

Beyond the log cabins, orange dirt, and cotton fields of her small sharecropping community, Ludelphia discovers a world she could never have imagined. But there's also danger lurking for a young girl on her own, and Ludelphia begins to wonder if she'll ever see Gee's Bend again. Despite
the twists and turns, Ludelphia weathers each challenge in a way that would make her mama proud, and may even save the day not just for Mama, but her entire town.

Next, let's explore how a quilt like this inspired Irene's story.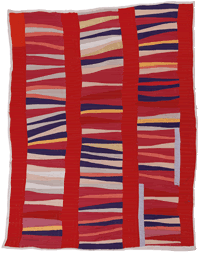 Explain how an exhibit of quilts from Gee's Bend, Alabama, inspired you.
"The quilts are a feast for the senses," says Irene. "The quilters of Gee's Bend use bold colors, often cut in long strips or large blocks - nothing like the Amish quilt patterns most people think of when they hear the word "quilts." And the textures! The women use whatever fabric available to them: worn denim work pants, Sears corduroy, calico prints. Then there's the history, the amazing story of this tiny, isolated Alabama community where quilters make art not for art's sake, but because they want to keep their families warm. I continue to be profoundly moved by the sense of strength and love and survival found in each quilt. While I didn't set out to write a book when I first voraciously consumed anything and everything 'Gee's Bend,' it now seems the perfect way to pay homage to a community of artists I have just fallen in love with.
"
And what does this recipe for lemon pound cake have to do with it?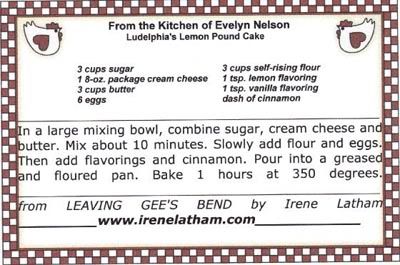 How would you describe Ludelphia's journey by way of her stomach?
"Ludelphia is quite the brave adventurer. I remember in edits, my editor wrote in the margin, 'her stomach does lots of things.' Which makes me smile, because I was trying to show Ludelphia's fear and anxiety as she encounters all these things she's never seen before. But her stomach also does things like grumble, because she's hungry! This is 1932 rural Alabama in a sharecropping community. A good meal consists of cornbread, field peas and maybe some fried salt pork. But on her journey, Ludelphia sits down at a fancy table with napkins folded like birds, where she feasts on bacon and biscuits and drinks her first Coke. Then, later, Mrs. Nelson feeds her the most delicious pound cake she's ever eaten. Ludelphia savors each flavor. And it gave me a chance to use my grandmother's amazing recipe."


Irene has said that this photo reminds her of her heroine, Ludelphia Bennett.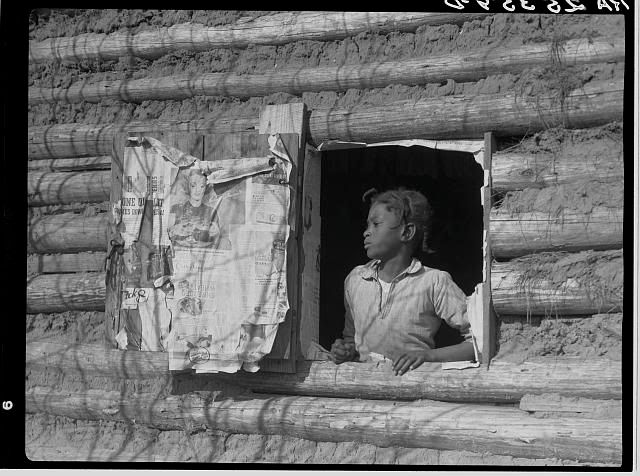 How did you find Ludelphia's voice?
"Voice is a funny thing. It wasn't until I switched my manuscript to first person that Ludelphia leapt to life. Suddenly, there she was: a determined, spunky girl with an indomitable spirit who loves her mama more than anything. And I credit the many, many hours I spent listening to audio recordings in the quilters' voices for helping me create what Brenda Woods, author of Coretta Scott King Honor-winning The Red Rose Box, called 'flawless' veracular of the era. Of course being born a Georgia peach and living in Alabama for the past 25 years probably helped too."
Here's where the magic takes place: Irene's office--also known as "the corner of the dining room."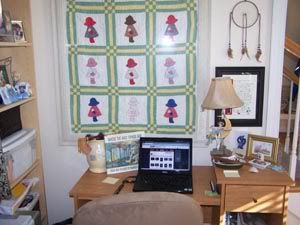 What has the past year been like for you?
"The past year has been amazing. Between working on edits and celebrating each milestone (delivery and acceptance! copyedits! cover! blurbs! jacket copy! Arcs!), the year has simply flown by. I've spent a lot of time learning about publicity and preparing materials like teacher guides and powerpoints for school presentations. What's interesting is how at this point, on the eve of debut, I feel like pretty much all of the creative work for Leaving Gee's Bend has been done. Now I've just got to show up... and feed my creativity by throwing myself into the next book."
What advice would you give the Elevensies and other debut authors?
"My advice to debut authors would be to spend less time measuring yourself against others and focus on your project, your baby, this very special thing that only happens once in a person's life. It doesn't matter how big or small your advance, how much attention your agent or editor gives you, what your print run will be. This is HUGE. For you. On the most personal level. It's great to connect with the amazing authors in the kidlit community, but it can be overwhelming too. And sometimes you might need to back away from that, for a while, for your sanity. In the end, it's about YOU. Don't forget to gather your spouse, your parents, your kids and the others who mean the most to you and CELEBRATE!"
Finally, the awesome trailer for LEAVING GEE'S BEND.
What do you hope readers take away from your book?
Even if you are barefooted and don't have a map to guide you and the path is unknown... go your own way. Create the life you want. And tell your story in whatever way that makes sense to you - maybe even in a quilt.
Thanks so much, Irene. And congratulations!!
Want to win an autographed copy of LEAVING GEE'S BEND?
Visit Irene here
and participate in her One Little Word contest!